Opening the windows for some fresh air?
Modern ventilation is more efficient.
Poor concentration, falling motivation and tiredness: a lack of oxygen has a negative impact on our performance and sense of well-being. However, constantly having to open the windows is an arduous and cost-intensive solution to this problem – and every time you ventilate the room this way, you lose valuable thermal heat. Mitsubishi Electric provides a better and more efficient solution in the form of the Lossnay ventilation units. These ensure controlled ventilation with heat recovery, particularly in the case of an air-tight building envelope.
Out with the old air, in with the new
Equipped with a powerful heat recovery system, the Lossnay ventilation units extract stale air while providing fresh outside air to the room at the same time. Almost all of the available cooling/heating energy is used during this exchange, enabling energy savings of up to 70% to be achieved.
How the Lossnay principle works:
The unique, ultra-thin structure of the paper core cross-flow heat exchanger enables the sensitive and latent proportion of the heat to be replaced and transferred to the fresh air so that it enters the space preconditioned, improving comfort and significantly saving energy costs.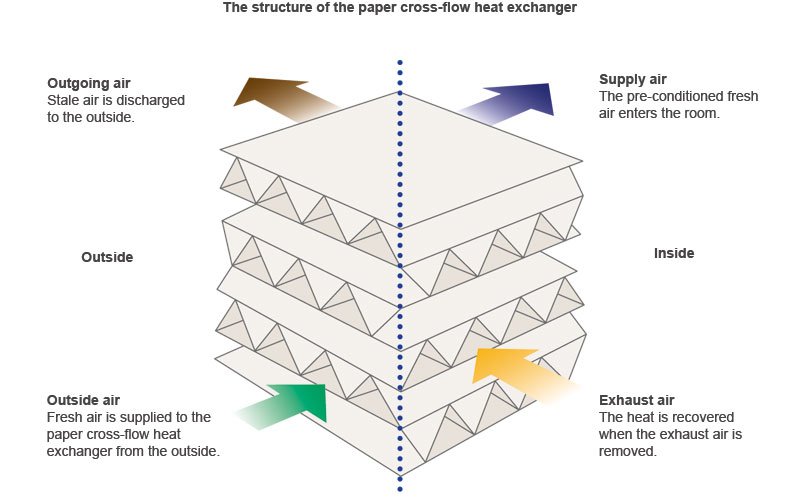 The benefits of the Lossnay ventilation system
Simple, practical and always well ventilated: the Lossnay ventilation principle ensures good-quality room air throughout and boasts a range of additional benefits:
Economical

Lossnay ventilation units enable controlled ventilation with heat recovery – ensuring that valuable thermal heat is no longer wasted.

Quietly

When used next to busy roads in particular, you can hear the benefit of Lossnay: while fresh air is free to enter, the traffic noise is kept out. The unit itself also performs well in this regard thanks to its very low sound pressure level.

Healthy

The permanent ventilation delivers a considerable reduction in the CO2 concentration. The installed air filter also ensures that less pollen and dust is able to enter, which is good news all round for allergy sufferers.

Precious

The air quality is significantly improved while mould and damp are prevented from forming. These are important aspects that have a positive impact on health and well-being – and also contribute to the value retention of the building.

Combinable

When it comes to addressing the climate-related requirements of customers today, the Lossnay ventilation systems in the LGF and LGH series and the air-conditioning systems in the Mr. Slim or City Multi series form an ideal team. The systems can simply be connected to one another via a data bus, with no need for any additional adapters or control units